March 2023 
K-J Little Deuce Coupe earned her Working Trial Champion.  Handled by Carol Gerken. Proudly owned by Jim & Kristi Closson.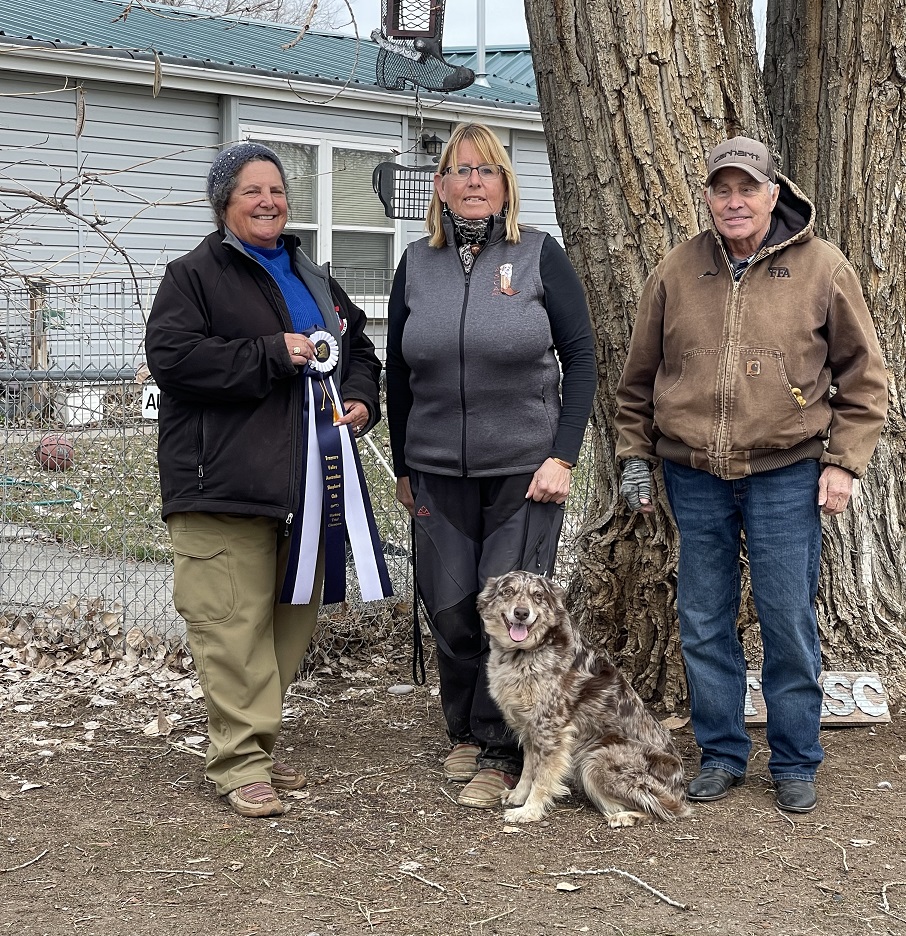 By Sean Ellis
Idaho Farm Bureau Federation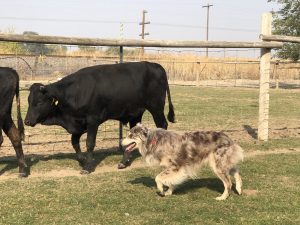 PAYETTE – Cash is a well-trained farm dog who excels in trialing competitions and was a finalist in the 2021 American Farm Bureau Dog of the Year Contest.
But where he really shines is in his day-to-day work on the K—J Ranch in Payette.
"I use Cash every day to run our operation and could not do it without him," says K—J owner Carol Gerken.
Cash, a 7-year-old Australian shepherd, was one of the finalists in the AFBF contest, which celebrates farm dogs that work alongside farmers and ranchers. 
---
AFBF Farm dog of the year finalist from Idaho
By: Jake Putnam
WASHINGTON–The finalist of the 2020 American Farm Bureau Farm Dog of the Year award is Cash, an Australian shepherd owned by Idaho Farm Bureau member Carol Gerken of Payette. 
MSSA Finals in Afton , WY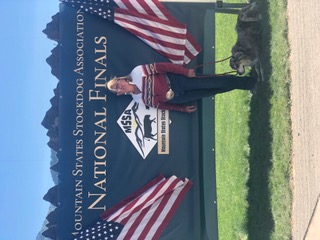 K-J Red Raiders Spittin Image aka "Cash" the only Aussie qualified for the MSSA Finals in Afton , WY
2019 Nationals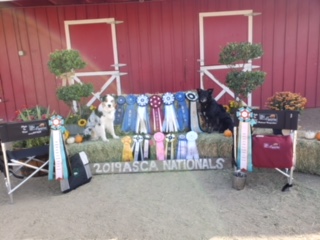 So proud to be represented at 2019 Nationals in the Agility , Most Versatile Aussie, Obedience, and Rally venues by owner Mary Manners and K-J Down N Dirty at 2M aka "Smudge." This team won HIT Rally – PreTrial, ODX-A Obedience PreTrial, and multiple placings and Qualifying scores in the National Specialty Agility and Rally.  Way to go ladies! Pictured with Smudge is her blue Merle traveling companion, Jet who was also very successful.
2019 ASCA Stockdog Finals and the ASCA National Specialty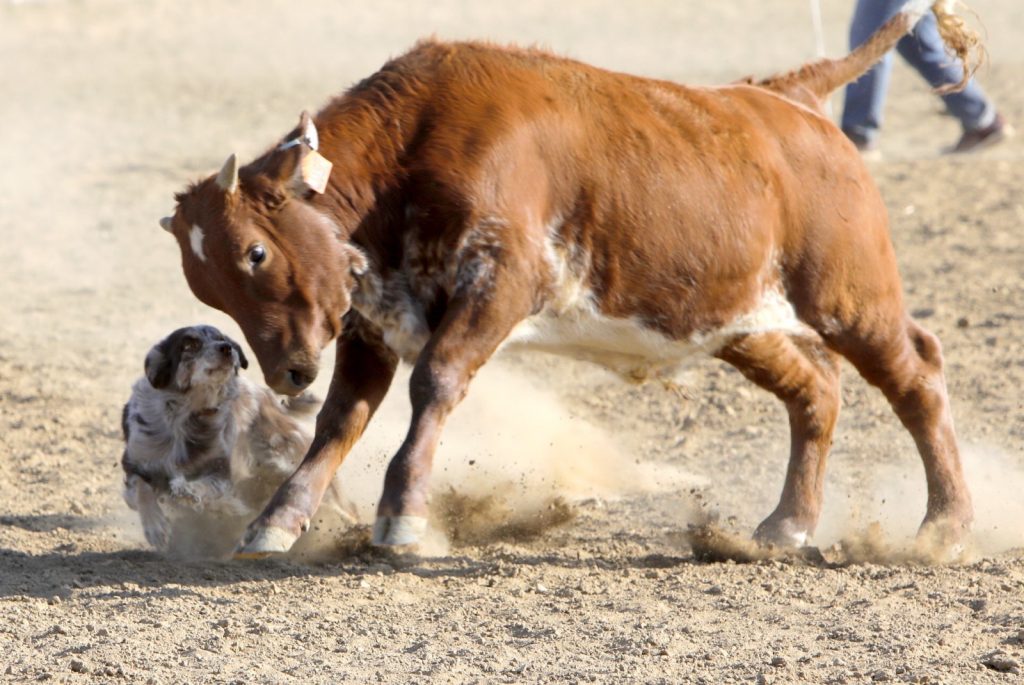 So proud of the dogs that represented K-J Ranch at the 2019 ASCA Stockdog Finals and the ASCA National Specialty. The stock was particularly challenging but the dogs rose to the occasion.  "Kali" aka K-J Kyotikali was crowned National Specialty Champion Open Cattle Dog. She also finished the season placing high in the National Merit program in the Started Division, earning 3rd in Cattle, 9th in Sheep, and 9th in Ducks.   Kali is proudly owned and shown by Tina Blasdell.  
"Cash" aka K-J Red Raiders Spittin Image qualified for the ASCA Stockdog Finals in all 3 stock. To qualify a dog had to be ranked among the top 30 point earners in the world in the past 12 months of competition.  In spite of some tough draws he made it back in the short round on Cattle and Ducks, and placed 9th on Cattle ! 
Our started dog did not disappoint and K-J Party Like A Cowgirl was 3rd in the PreTrial on Ducks and earned Qualifying scores in all 3 stock (cattle, sheep, and ducks). Not bad for her first trip away from home
George Frey Memorial Trial in Ashland, Oregon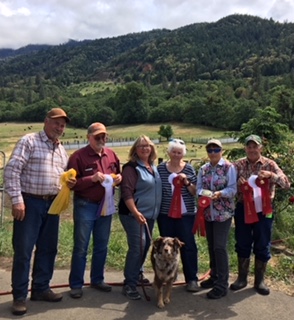 So proud of Tina Blasdell and her dog K-J Kyotikali (aka Kali) winners of The High Combined Started Aussie Buckle at the George Frey Memorial Trial in Ashland, Oregon.
ASC of Idaho Trial, May 2019 – Kuna, Idaho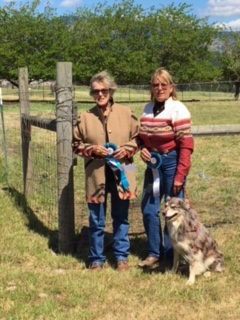 2019 TVASC March Madness
Congratulations to Tina Blasdell and K-J Kyotikali , winner of the Most Promising Started Australian Shepherd Award at the 2019 TVASC March Madness trial in Payette, ID.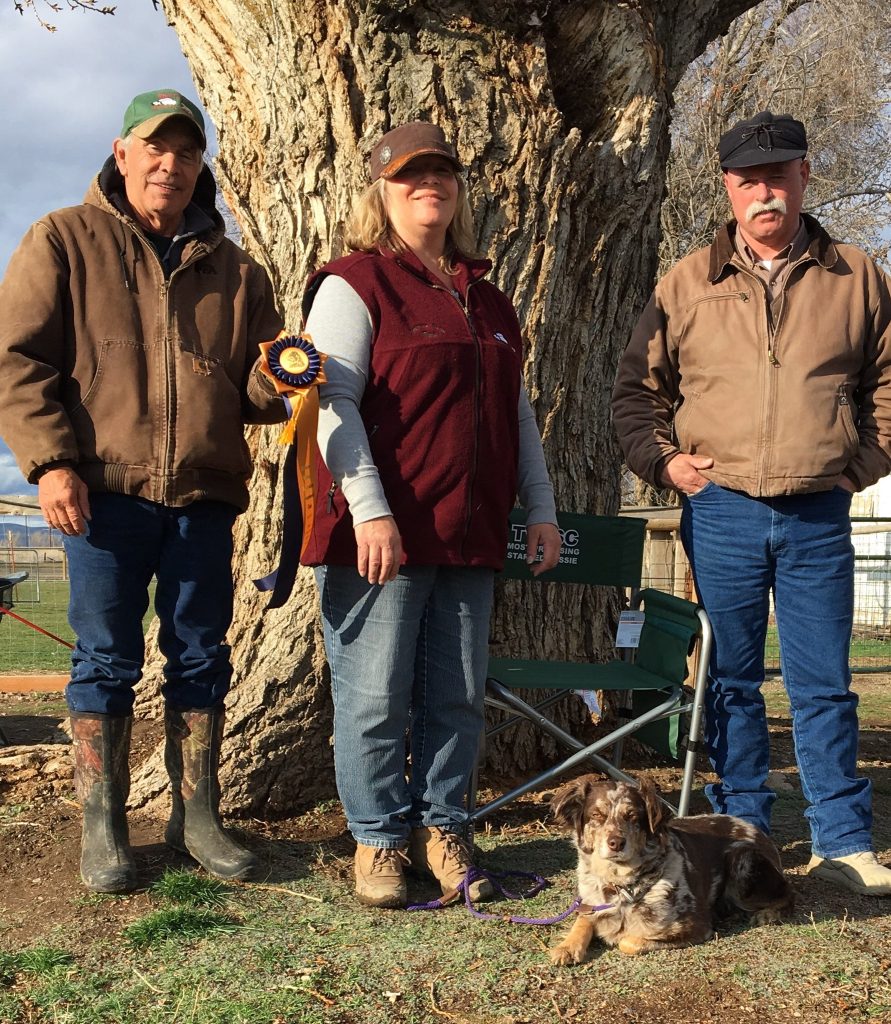 RHR Awards
For the first time in the history of the RHR, a Brace team of Australian Shepherds competed. The working Australian Shepherds from K-J Ranch brought home 3rd place:
K-J Red Raiders Spittin Image (Cash)   (video) 
Ranch Class Preliminary -1st Place    
Ranch Class Finals – 3rd Place

Cash and Kali (K-J Kyoti's Kali)   (video)  
Brace Class Preliminary – 3rd Place       
Brace Class Finals – 3rd Place 
Stockdog Trials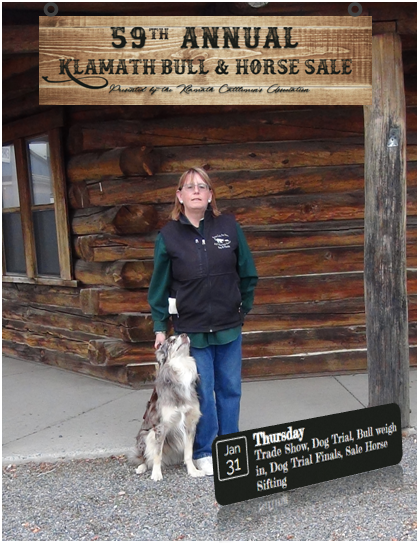 We attended the Stockdog trial in Klamath Falls January 31.
Cash did an excellent job representing our working Australian Shepherds and tied for 3rd in the Ranch class and was 6th in the Intermediate division. Thank you to Katrina Damon and everyone at the event … it was a great trial and the cattle were exceptional!
K-J Red Raiders Rustler High Combined Open