K-J Ranch Working Australian Shepherds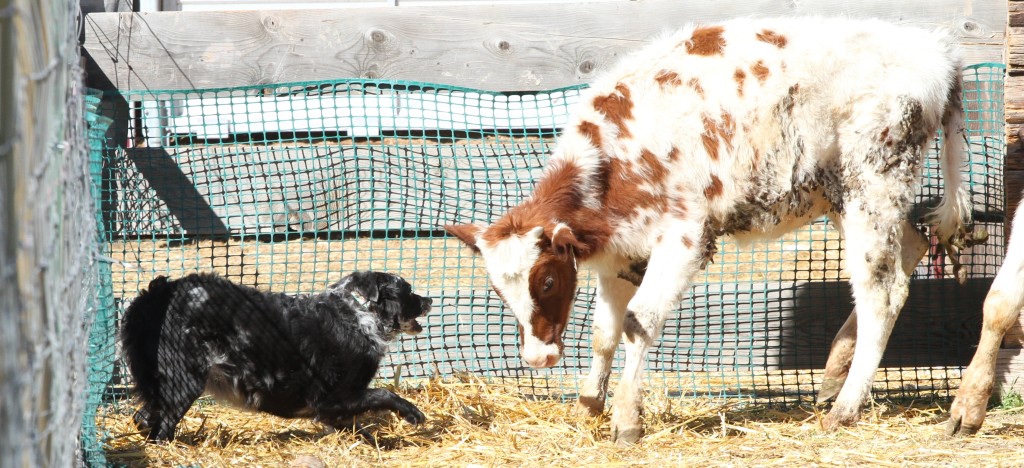 The Pacific Northwest is home to many of the premier stock dogs in the country, and many of them reside in southwestern Idaho. In addition to world class trial dogs, many ranchers, day working cowboys, and farmers depend on their four legged partners to make a living and help with the daily chores required to maintain a profitable livestock operation. Stock dogs are invaluable help regardless of the size of operation one might have, and a good dog can do the work of several hands. Dogs are used for gathering, sorting, loading, and holding stock for doctoring, moving stock from one pasture to another, watching over their handler, and on occasion guarding the house, kids, or pickup. They come in a multitude of sizes and colors, and are purebred or mixed.
While there are over 30 recognized purebred herding breeds, the most commonly seen purebred breeds in the Caldwell area include Australian Shepherds, Border Collies, Cattle Dogs, and Kelpies. Common mixed breeds are McNab and Hangin Tree Cowdogs. Just as there are many different breeds of stock dogs, there are also many different stock dog organizations and trial venues. AKC (American Kennel Club), ASCA (Australian Shepherd Club of America), AHBA (American Herding Breed Association), MSSA (Mountain States Stockdog Association), NCA (National Cowdog Association) and USBCHA (United States Border Collie Handlers Association) are organizations that sanction stock dog trials in the Idaho area.
These trials can test a dog's ability to herd ducks, geese, sheep, goats, and/or cattle, depending on the trial one attends. They may be judged on style, or dogs can do a "time and points" trial where the handler/dog team gains points by moving stock through a series of obstacles in an allotted period of time. Many times the handler is on foot, but there are trials where the handler directs the stock and dog while on horseback. There are beginner through advanced handler/dog levels within all of the venues, allowing newcomers a chance to get their feet wet in the sport of competitive dog trialing.
Similar to rodeo, in the early days handlers used their dogs for everyday ranch and farm work and participated in a weekend dog trial for the camaraderie with neighbors and the fun of friendly competition. As the sport grew, so did the level of training and competition, and professional dog trainers emerged. A person can buy a dog that is fully trained, get a dog that has been started, or purchase a puppy and train it themselves with the help of a coach.
At K-J Ranch our goal is for you and your dog to be able to work together as a team. You may need to work as a Ranch Hand Team, need Farm help, have fun being herding enthusiasts for fun or competition, or simply wanting a family companion. We pride ourselves in working with you and your dog to be the partnership you're seeking.
Wondering if you and/or your dog would have fun working together learning the sport of herding? We offer an evaluation on stock for $35. We help you learn how to handle your dog or we can handle the dog ourselves. If you find you want to pursue this sport, we will help you get started.
Have a young dog at the ranch that needs a little more handle? A variety of suitable livestock is available to train your dog on, including ducks, goats, sheep, and cattle. If you are already a competitive handler, you can schedule time to work your dog in any of the several arenas and fields available.