Payette dog a finalist in national dog of year contest
By Sean Ellis
Idaho Farm Bureau Federation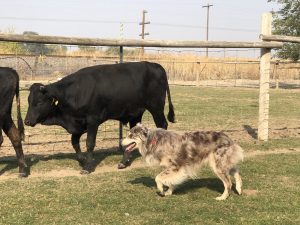 PAYETTE – Cash is a well-trained farm dog who excels in trialing competitions and was a finalist in the 2021 American Farm Bureau Dog of the Year Contest.
But where he really shines is in his day-to-day work on the K—J Ranch in Payette.
"I use Cash every day to run our operation and could not do it without him," says K—J owner Carol Gerken.
Cash, a 7-year-old Australian shepherd, was one of the finalists in the AFBF contest, which celebrates farm dogs that work alongside farmers and ranchers.
When Gerken's husband passed away unexpectedly in February 2018, she had to learn to manage her farming operation by herself and "find a way to create enough income to pay the bills and allow me to stay on the (15-acre) farm I call home."
To do that, she developed a program that trains other ranchers and farmers to train and use dogs for low-stress livestock handling on their farms and ranches.
She also raises and trains stock to be used for hosting stock dog trials, and implemented a pasture rotation program for raising stock.
Cash, who weighs 48 pounds, helps Gerken sort, move and manage cattle, goats and sheep on a daily basis and get them set up for various lessons.
The K—J Ranch also has ducks, horses and geese and, yes, Cash can herd geese.
Cash, who is red merle in color, is an integral part of the ranch's daily operations.
"Cash is my right-hand man in this venture," Gerken says. "I honestly could not continue living on the farm and carry out this venture without his help."
A lot of dogs are well-trained to work on the farm or ranch but what sets Cash apart is his instinct, Gerken says.
"He is very keen, very instinctive," she says. "In other words, I don't have to tell him to get a cow that's getting away, he just goes and gets it."
"He is a very confident dog … and he really shines in everyday work," she adds.
Brian Abingdon, a professional dog trainer who lives near Eugene, Ore., trained Cash as a puppy and says the dog is about as tough and smart as they come.
Some Australian shepherd farm dogs take years to achieve the title of working trials champion, the highest achievement an Australian shepherd can attain. Some never attain that title.
"Cash did it in half a dozen weekends. It was rather remarkable," Abingdon said. "He is a dirty tough dog and there is practically nothing he can't do. He's legit."
Abingdon said although he helped train Cash, "He's Carol's dog. She made him. I just kind of got a start on him. He is the epitome of a farm day. He is her everyday dog."
AFBF received 90 nominations for its 2021 Farm Dog of the Year contest. The winner, who will be announced in January, will receive $5,000 in prize money and a year's worth of dog food from Purina, which sponsors the annual contest. Up to four regional runners-up will each receive $1,000 in prize money.
According to the guidelines for the AFBF contest, desired attributes of Farm Dog of the Year entries include helpfulness to the farmer, obedience and playfulness.
Farm dog owners must be Farm Bureau members to enter their dogs in the contest.
Cash did not win this year's contest but Gerken says as far as she's concerned, he more than earns his keep around the K—J Ranch and is the top dog in her mind.
"Cash is the poster child for farm dogs everywhere," she says.
He is also fiercely loyal, one of the top traits of Australian shepherds, she adds.
"Australian shepherds are very loyal; that's why I like them," she says. "They are very nice and they are friendly but if you were to come up to me and be threatening, you would wear Cash and not in a nice way."