Jeremy Moye Looks to Win National Specialty in Texas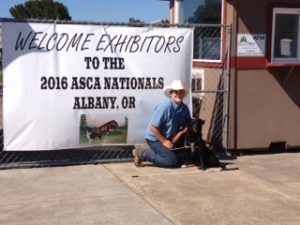 Once again a local boy has put Weiser, Idaho on the map.  Jeremy Moye is a 14 year old that has lofty goals of participating at the 2017 Australian Shepherd Club of America (ASCA) National Specialty Stock Dog Trials, being held this year, October 27 – November 4 in Bryan, Texas.
Son of Tanya Moye, Jeremy lives with his grandpa Terry Moye in Washington County just north of Weiser, and attends school in Midvale, ID.  Jeremy began his pursuit of the sport of
competitive dog trialing with his Border Collie, Diamond at the age of 12.
Under the tutelage of Carol and Lyle Gerken at KJ Ranch Working Australian Shepherds in Payette, he developed his skills and learned how to train Diamond into a useful ranch dog.  He got a taste of competitive dog trialing as he finished Diamond's training, and there was no turning back.  He purchased a 8 week old Australian Shepherd puppy as hi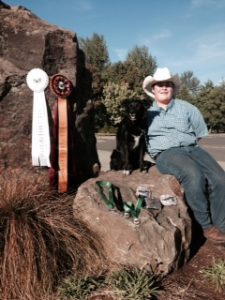 s next project, and named her Mitts. This was a keen puppy and he worked very hard to keep up with her.
While continuing to train Mitts, he invested in an adult female and with guidance mapped out the foundation of developing a kennel with a specific breeding plan.  After his first 12 months of training Mitts, he begin participating in local trials and started getting her herding titles.  Last year he participated for the first time outside his home turf, and attended the 2016 ASCA National Specialty in Albany, Oregon with Mitts. She was only 2 years old.  He competed in the Junior Handler division, but also was eligible for placements against adults, seasoned trainers, and competitors.
Competition was tough and he and Mitts had to herd cattle, sheep, and ducks through a variety of obstacles.  With the pressure on, Jeremy not only was the High Scoring Junior Handler in Ducks and Sheep, he placed 4th in the Open Class Ducks and 5th in the Open Class Sheep.  Rounding out his experience by gaining a score in the Cattle, Jeremy was awarded the High Combined Junior Handler 🙂
This year Jeremy is dedicated to continuing to sharpen his skills.  While he continues to work with Mitts to realize a goal of gaining a  Working Trial Champion title, he gave Mitts some time off to raise some puppies of her own.  This led him to purchase his current dog, J.R.
While he continues to sharpen his skills, he is readying J.R. for competition this fall at the National Specialty.  He is working hard to raise the money needed for this undertaking.
K-J Ranch, located in Payette County,  is hosting a stock dog trial on Sept 30 & October 1 with a Benefit Raffle, with proceeds going to support Jeremy's goal to compete at the National Specialty.
Spectators are welcome at no charge.  For more information on how you can contribute items or buy raffle tickets to help Jeremy go to TX, email Gail at jgelliott52@hotmail.com !  Your support will help Jeremy continue to reach his goals and make Idaho proud!